As I walked around the mall I realized Sears is an outlier. In a world of experiential shopping of beautiful stores with cultivated and gamified shopper experience housed in MGM Casino like backdrops;
Sears is ugly
. Tons of products crammed into a space, actively trying to sell products off the shelf. It's like the internet doesn't exist.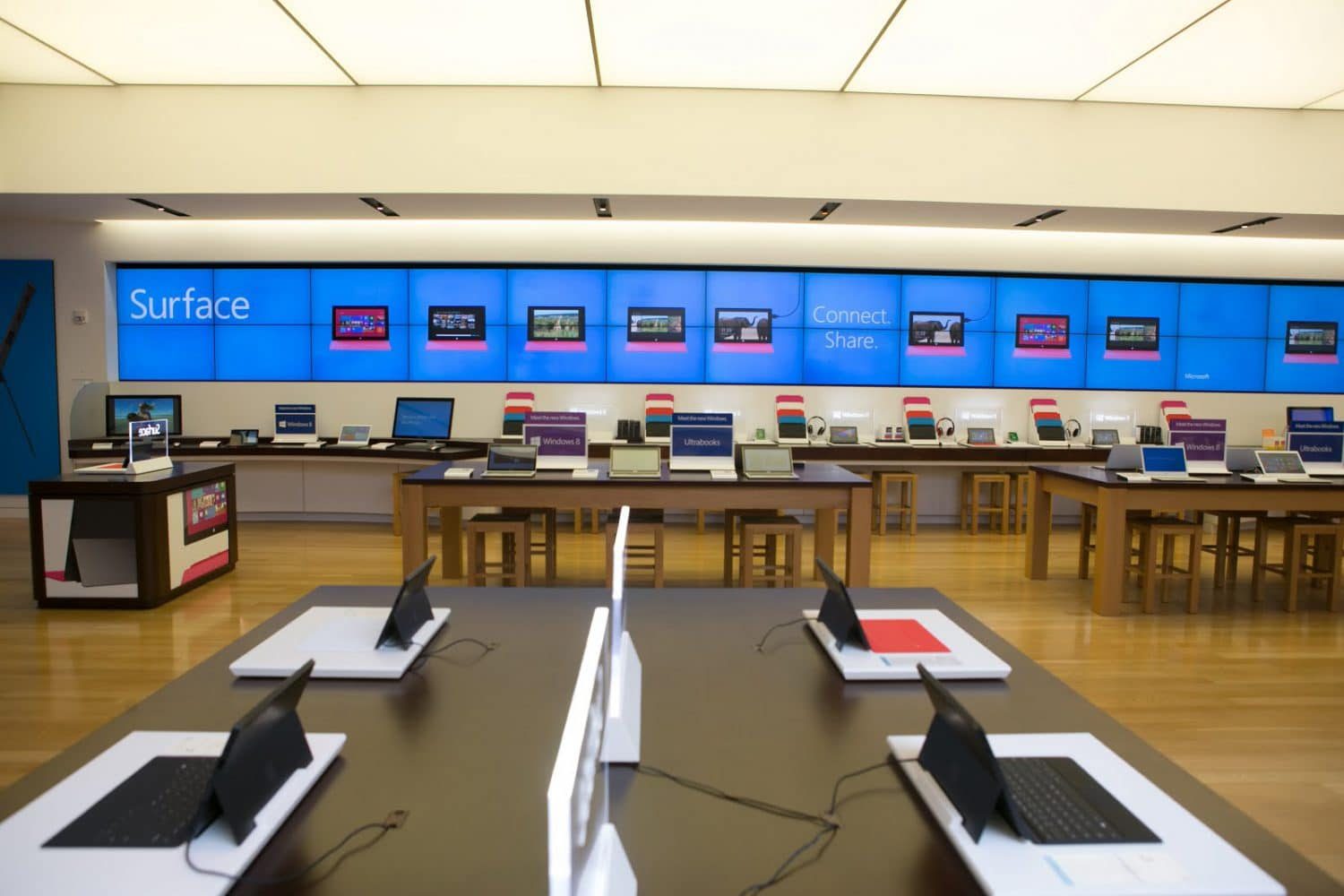 Image from http://crazyadventuresinparenting.com/2013/05/free-summer-camps-in-san-antonio-microsoft-store.html
To succeed Sears needs to embrace shopping trends which are now both in-person and online. Look at Sears compared to the Microsoft Store. One is fun and beautiful the other looks dated. Sears isn't embracing screens and it should. One has properly and purposely spaced user experiences of products the other is the opposite. One has modern lighting and shelving, the other looks like a 1980s MVA/DMV.
Image from http://www.deadanddyingretail.com/2011/12/midway-mall-dying-or-recovering.html
Online versus Physical Retail isn't an either/or proposition. Choosing between going all online or all physical retail. Sears should leverage it's impressive real estate to sell products online, particularly with focus of online sales while in the store. Using its physical space to beautifully display what their products can do in a gamified manner. This beautiful appearance will attract and enable the first step to a completion of a sale likely online with modern "Amazon-like" delivery.
Picture this, you go into Sears you see some great air compressor with screens depicting what they can do for you. You then think wow that is interesting, take an RFID or photo scanner out on the Sears app which allows you to connect to that product online and if you buy in the next five minutes you get your taxes paid for by Sears and free shipping.
Instead the experience is akin to seeing air compressors side-by-side in an old multi-purpose room replete with 1990s school lighting. You really need to want that air compressor in this experience, and Sears makes you jump through several more hoops. You then have to look for a salesman to complete the transaction at a Point of Sale unit. Why wouldn't that same consumer just buy one online and check out the Apple Store with their newfound time?
Sears isn't fun. It isn't modern. It is outdated and it needs to embrace 2017 retail which is about fun (not necessity).